Bitcoin Learning for Kids
We believe financial education is vital for people of any age and this very much includes our children. In particular we believe it is healthy for children to learn about Bitcoin and hard money and why it is so important for humanity. There are many ways to teach them with analogies or by letting them experience it first hand. If they're old enough to play video games, they're old enough to start learning about Bitcoin. Here are a few resources for children and young adults for you to share with your family.
Bitcoin for KIDS With Dr. Gretchen
In this one day class, students will learn about Bitcoin, a virtual currency and how to start investing in it. The class will be structured in the format of allowing students to take notes from a PowerPoint Presentation about Bitcoin and a student-teacher Q&A session.
Bitcoin Money -by Michael Caras
The kids in Bitville realize they need a tool to help them trade with each other. As they explore using different types of money, a strange boy moves to town and suggests a new idea… Bitcoin Money is a story for all ages which helps answer the question "Why Bitcoin?".
What is Bitcoin? for Kids and Beginners
This video explains the concept of Bitcoins in a simple, concise way. It could be used by kids & teens to learn about Bitcoin, or used as a money & personal finance resource by parents and teachers. It covers 6 topics and is suitable for kindergarten to high school.
Teaching kids about Bitcoin & life
Let's be honest, we've all googled "please explain this crypto concept to me as if I were a 5-year-old." But maybe not these exact words. Cryptocurrency is a tricky subject to understand. So, how does one communicate this to kids who still make sense of objects, including coins, by sticking them in their mouths? 
Bitcoin Smart Kids -by Andy LaPointe
In Bitcoin Smart Kids, Andy LaPointe and his 14-year old daughter teaches kids of all ages about Bitcoin. This is an easy-to-understand introduction to the world of Bitcoin and cryptocurrencies. Andy is a retired Registered Investment Advisor. He has written two additional books on Bitcoin and cryptocurrency.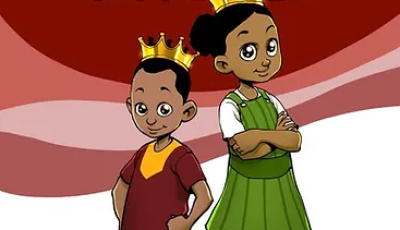 Bitcoin Kids- Fin. Literacy for Kids
The earliest and most enduring form of governance is the family. "If raising children was less rewarding than not doing it, the human race would have gone extinct" -Naval. Out of a sheer desire to create a financially stable future for my 3 year old son, I decided to re-adjust my life's mission directed towards educating Kids (2 to 15 y/o) about Bitcoin.
Bitcoin: The Future of Money
A beautifully illustrated book for both kids and adults about Bitcoin and money. The story focuses on a time traveler who has come back from the future to teach us about the future of money but before we can learn about the future we take a history trip to learn about the money of the past, present-day versions of money and the future of money.
Kids Bitcoin books -SHAmory
We make Bitcoin fun for all Ages! Explore Bitcoin books, games and more at Shamory. When someone anywhere in the world is looking to teach a 5, 15 or 50 year old about Bitcoin, we want to be the go to resource to help make that process fun and engaging. So keep your eyes out as our product line grows, because this little family is just getting started!
The Bitcoin Whitepaper for Children
Now your kids can also read the Bitcoin White Paper!
The Bitcoin White Paper for kids was created by Ivan Campos. The White Paper is a simplified version of the original clearly explained and with picture illustrations any kid can understand.
Tween twins, a crazy grandma & a time-traveling wheelchair. This is a show that teaches kids principles of freedom and government. Fasten your dentures!
If you and your children have come this far then you are probably ready for our FREE 21 day Bitcoin for Beginners course. Sign up below
Sign up to take the Course